The Future of Serverless Architecture and Cloud-Native Technologies [Infographic]

Direktiv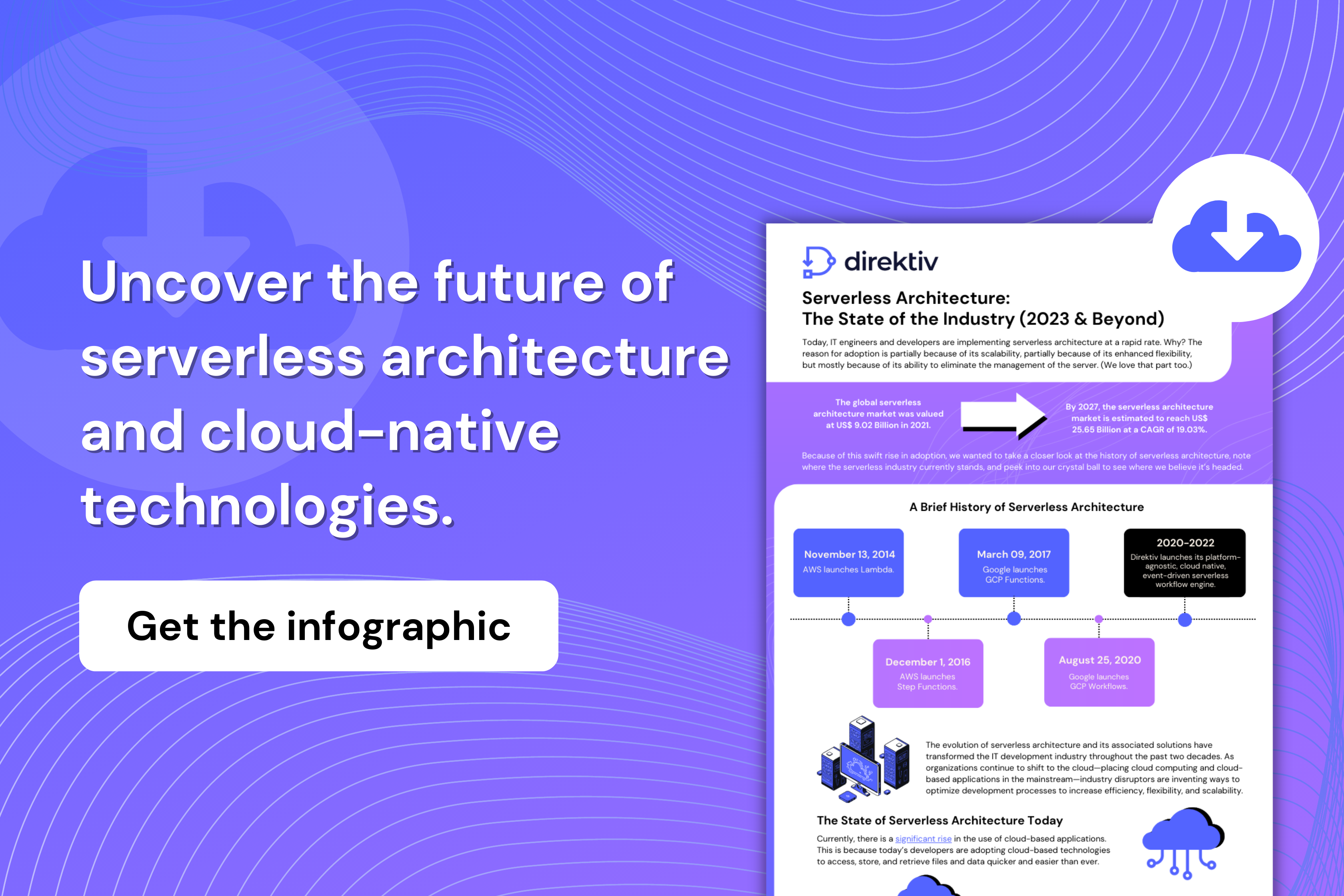 By 2027, the serverless architecture market is estimated to reach US$ 25.65 Billion at a CAGR of 19.03%. And it makes sense—over 50% of organizations leveraging the cloud have already adopted serverless solutions.
It's obvious, today's IT engineers and developers are implementing serverless architecture at a rapid rate. Why? The reason for adoption is partially because of its scalability, partially because of its enhanced flexibility, but mostly because of its ability to eliminate the management of the server. (We love that part too. 😉)
Because of this swift rise in adoption, we wanted to take a closer look at the history of serverless architecture, note where the serverless industry currently stands, and peek into our crystal ball to see where we believe it's headed. 👇
Serverless Architecture: The State of the Industry (2023 & Beyond) [Infographic]
The evolution of serverless architecture and its associated solutions has transformed the IT development industry throughout the past two decades. As organizations continue to shift to the cloud—placing cloud computing and cloud-based applications in the mainstream—industry disruptors are inventing ways to optimize development processes to increase efficiency, flexibility, and scalability.
In fact, over 85% of organizations will be adopting a cloud computing strategy by 2025! This is hardly surprising when even Gartner predicts that 95% of new digital workloads will take place on cloud platforms. 🚀
Uncover more industry insights and get a glimpse into the future of serverless architecture in our brand new infographic, Serverless Architecture: The State of the Industry (2023 & Beyond).
Inside, you'll discover:
An overview of the history of serverless
The state of serverless architecture as it stands today
Why today's IT engineers are rapidly implementing serverless technologies and solutions
Key insights proving serverless architecture is the future of development
No forms. No Gimmicks.
To remain competitive in today's cloud-based world, organizations need to prioritize adopting the technologies, strategies, and DevOps mindset to make the shift. Direktiv's platform-agnostic, cloud native, event-driven serverless workflow engine can help ease you into the adoption of serverless architecture.
Contact us to speed up your digital transformation and implement serverless architecture solutions with Direktiv.