Event-Driven Orchestration: An Insider's Look at How Direktiv Works

Direktiv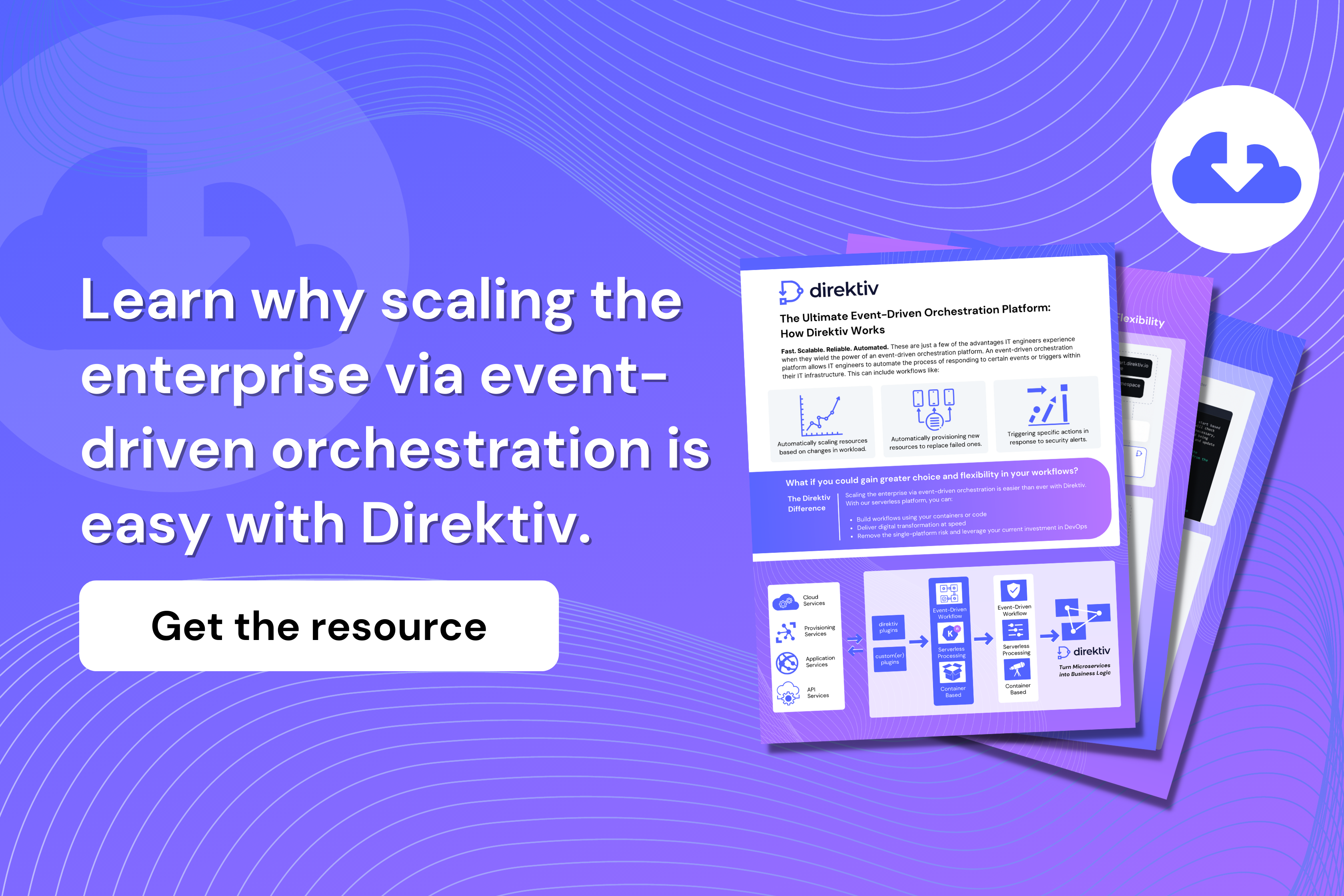 Fast. Scalable. Reliable. Automated. These are just a few of the advantages IT engineers experience when they wield the power of an event-driven orchestration platform. Event-driven orchestration instantly saves time by allowing engineers to automate workflows in response to an event or trigger. This can include workflows like:
Automatically scaling resources based on changes in workload

Automatically provisioning new resources to replace failed ones

Triggering specific actions in response to security alerts
Pretty cool, huh? 😎 Well, what if you could gain greater choice and flexibility in your workflows? Scaling the enterprise via event-driven orchestration is easier than ever with Direktiv. ⬇️
How Direktiv Works: The 4 Steps to Achieving Greater Choice and Flexibility
Using Direktiv is incredibly simple. With our serverless platform, you can:
Build workflows using your containers or code

Deliver digital transformation at speed

Remove the single-platform risk and leverage your current investment in DevOps
The containers and workflows you use are up to you—and the possibilities are endless. Unlike other platforms, Direktiv is vendor- and cloud-agnostic, so you can use containers from any source you choose. You can even mix-and-match containers from various vendors, along with your own custom creations, to get the precise workflow you need. 🔥
In just four easy steps, you can implement and begin leveraging Direktiv:
Install Direktiv on your server

Create your containers or choose from

DirektivApps

Define the flow in YAML or in UI builder

Run the workflow
To help you get started, we've developed this resource showcasing how Direktiv works and how you can use it to your competitive advantage. Plus! We also highlight Direktiv's key differentiating features and capabilities. You'll need to see it for yourself to believe it. 👀
Final Thoughts
Using an event-driven orchestration platform saves time and resources for engineers by automating tasks so that they can spend their time on high-priority to-dos.
Discover the use cases and enhanced flexibility of the ultimate event-driven orchestration platform—book a demo to see Direktiv in action.